AWeber
AWeber: The All-in-One Solution for Successful Email Marketing Campaigns
Setting up Integrations with AWeber
Published on 15.07.2023 by Katerina
Looking to enhance your email marketing game? AWeber, a powerful and user-friendly email marketing platform, is the go-to choice for marketers worldwide. It offers seamless integrations with
various third-party applications
and platforms, which enables users to enhance their email marketing efforts, automate workflows, and streamline their processes. Discover how to set up AWeber's integrations seamlessly with our step-by-step guide. Let's optimize your campaigns together!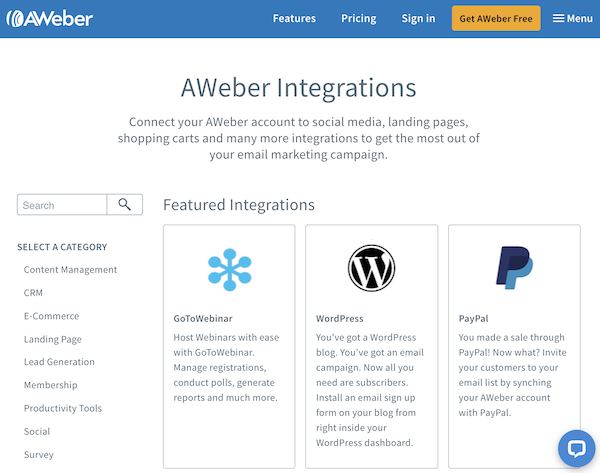 Step 1: Discover the Array of Integrations
Research and Choose: To begin with, research and carefully select the integrations that best suit your needs and objectives. AWeber seamlessly integrates with a variety of platforms, including e-commerce systems, CRM software, landing page builders, and CMS solutions. It's essential to identify the ones that perfectly align with your email marketing strategy.

Consult AWeber Documentation: Visit the AWeber website and refer to their official documentation for in-depth insights into the diverse integrations available. AWeber offers comprehensive information and step-by-step instructions, simplifying the setup process and ensuring a seamless experience.
Step 2: Get Your AWeber Account for Setting up Integrations
Sign Up for AWeber: If you haven't already, take the first step by signing up for an AWeber account. Choose a plan that perfectly suits your requirements and complete the registration process.

Set Up Your AWeber Account: Once you've signed up, proceed with the initial setup of your AWeber account. Provide essential details like your name, email address, and company information. Additionally, take some time to familiarize yourself with the AWeber dashboard and its user-friendly features.
Step 3: Configuring Integrations with AWeber
Select the Integration: Begin by choosing the integration you wish to set up with AWeber. Follow the specific documentation and instructions provided by AWeber for that integration.

Access Integration Settings: Next, access the settings or integration section of the third-party application or platform you are integrating with AWeber. Look for the AWeber integration option or plugin within the settings menu.

Connect Your AWeber Account: Follow the simple instructions provided by the third-party application or platform to connect your AWeber account. This typically involves entering your AWeber account credentials or generating an API key within your AWeber account.

Authorize the Integration: Grant the necessary permissions to the integration, allowing it to access and interact with your AWeber account. Carefully follow the authorization steps provided by the third-party application or platform.

Configure Integration Settings: Once the integration is authorized, proceed to configure the specific settings according to your preferences and requirements. This may include mapping data fields, selecting subscriber lists, setting up triggers or actions, and adjusting other integration-specific options.

Test and Verify: After setting up the integrations, carry out test actions to ensure that data is syncing correctly between the third-party application or platform and AWeber. Verify that the integration is working seamlessly as expected.
Step 4: Monitor and Optimize
Monitor Integration Performance: Keep a close eye on the integration to ensure flawless data syncing and smooth operation of any automated processes or workflows. Regularly check for error messages or any potential issues that may arise.

Optimize Integration Setup: Continuously evaluate the integration setup to pinpoint areas for enhancement. Make necessary adjustments to integration settings, mappings, or configurations to maximize its performance and efficiency.
Step 5: Seek Support and Resources
Utilize AWeber Support:

If you encounter any challenges during the integration setup process, don't hesitate to seek assistance from

AWeber's customer support

. They can provide valuable guidance, troubleshoot issues, and offer solutions for a smooth integration.

Refer to Documentation and Resources: Take advantage of AWeber's official documentation, knowledge base, and resources. They offer comprehensive information, best practices, and troubleshooting guides for integrating AWeber with various applications and platforms.

App Marketplace for Expanded Capabilities:

Discover additional tools and integrations developed by third-party experts in AWeber's

App Marketplace

. Explore new ways to elevate your email marketing capabilities.
These steps will guide you in setting up Integrations with AWeber, enabling you to optimize your email marketing campaigns effectively.