AWeber
AWeber: The All-in-One Solution for Successful Email Marketing Campaigns
How to Use AWeber?
Published on 15.07.2023 by Katerina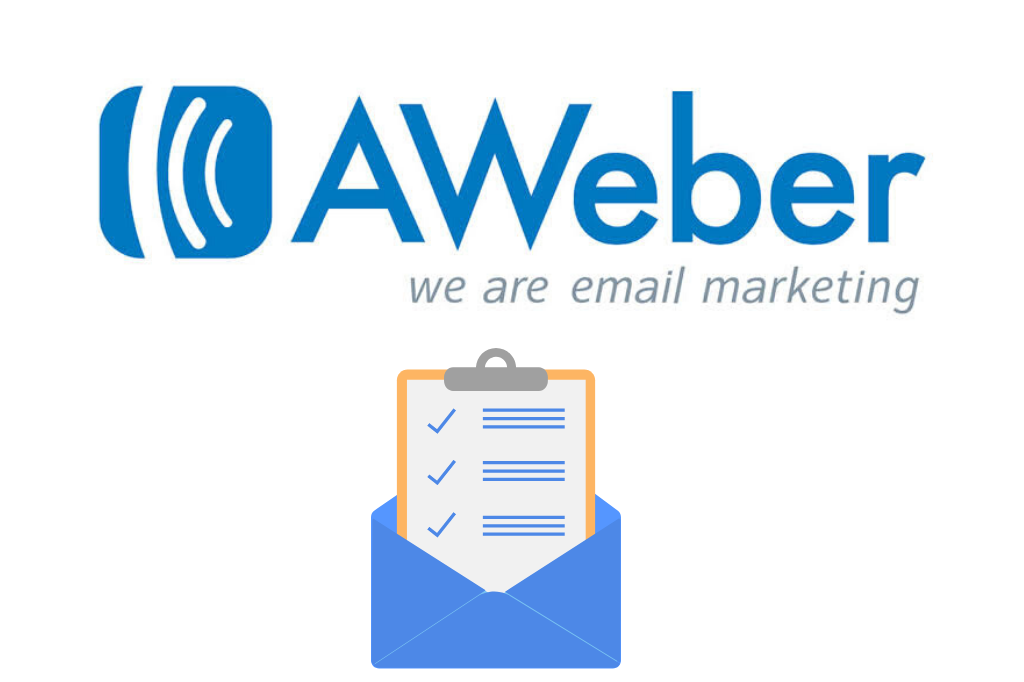 What is AWeber?
Are you looking to supercharge your marketing campaigns and build a strong relationship with your audience through email marketing? Look no further than AWeber - a powerful and user-friendly email marketing platform that can revolutionize the way you communicate with your customers. In this comprehensive guide, we will walk you through how to use AWeber effectively, from setting up your account to crafting engaging emails and analyzing your campaign's performance. Let's dive in!
Getting Started with AWeber: Account Setup and List Building
Before you can harness the power of AWeber, you need to create your account and set up your email list. The process is straightforward, so let's walk through it step-by-step:
Visit AWeber's Website and Sign Up:

To get started, head over to

AWeber's official website

and click on the "Sign Up" button. You'll be prompted to provide essential details, including your name, email address, and a password to create your account.

Verify Your Email and Set Up Your Profile: After signing up, AWeber will send a verification email to the address you provided during registration. Click on the verification link to confirm your account. Once verified, complete your profile by adding important information, such as your company name, contact details, and a profile picture.

Create Your First Email List: With your account set up, it's time to create your first email list. AWeber allows you to manage multiple email lists for different segments of your audience. Give your list a clear and descriptive name that reflects its purpose.

Customize Your Signup Form: Next, customize your signup form to collect subscriber information efficiently. AWeber provides various form templates to choose from, and you can customize them to match your brand's aesthetics. Place the form on your website, landing pages, or social media to start gathering subscribers.

Import Existing Subscribers (Optional): If you already have an email list, you can import it into AWeber seamlessly. Ensure you have the necessary permissions to contact these subscribers via email to comply with anti-spam laws.
Crafting Irresistible Campaigns: How to Create Engaging Emails
Create a List: Start by creating a list of subscribers to whom you will send your email campaigns. AWeber allows you to import existing contacts or add them manually. Make sure to comply with applicable email marketing regulations and obtain proper consent.

Design Your Sign-Up Form: Customize your sign-up form to collect subscriber information such as names, email addresses, and other relevant details. AWeber provides pre-designed templates, or you can create your own using the drag-and-drop editor.

Build Your Email: AWeber offers an easy-to-use drag-and-drop email builder. Choose a template or create your own design from scratch. Add your content, images, and calls-to-action to create engaging emails.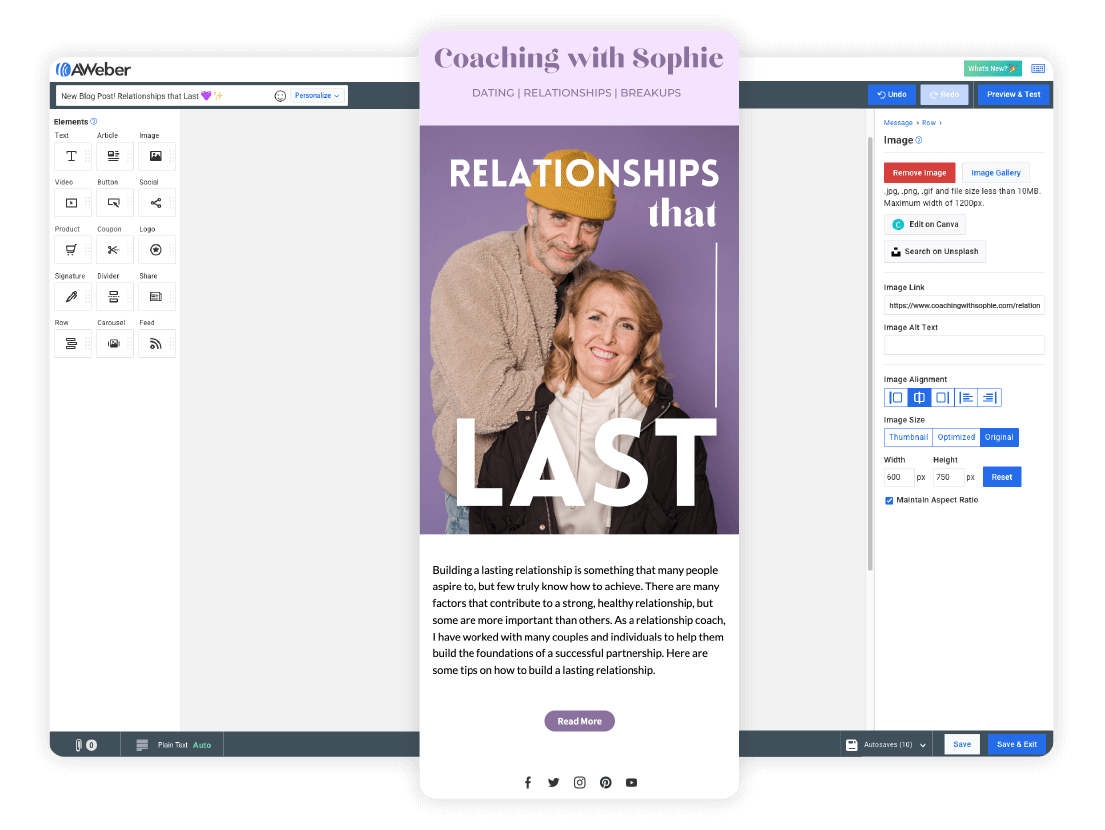 Personalize and Segment: Use AWeber's segmentation and personalization features to send targeted emails to specific segments of your subscriber list. This allows you to deliver more relevant content and increase engagement.

Automation and Autoresponders:

One of

AWeber's key features

is automation tools that can create autoresponder series and trigger emails based on specific events or subscriber actions. Set up automated workflows to save time and deliver timely messages.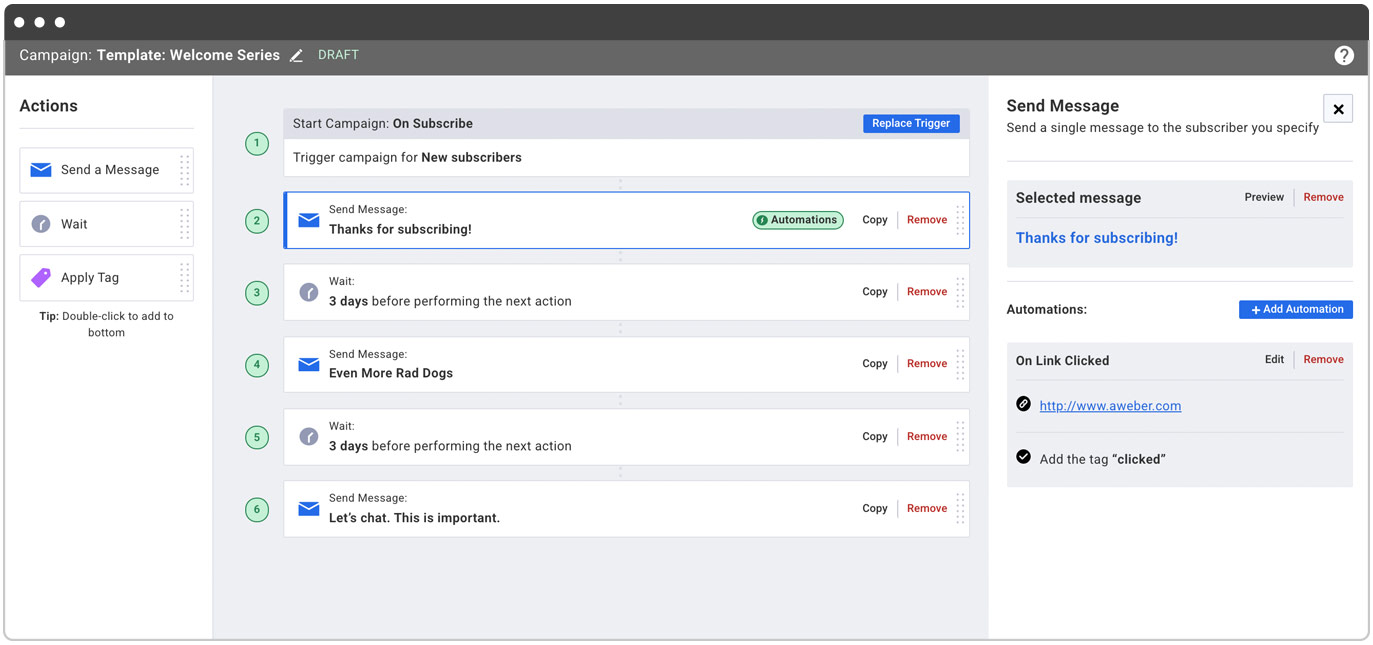 Sending and Tracking Emails
Preview and Test: Before sending your email, use AWeber's preview feature to see how it will appear on different devices and email clients. Send test emails to yourself and team members to check for any issues or errors.

Schedule or Send Immediately: Decide whether you want to schedule your email for a specific date and time or send it immediately. AWeber allows you to choose the best option for your campaign.

Track Performance: Once your email is sent, monitor its performance using AWeber's analytics and reporting tools. Track open rates, click-through rates, and other key metrics to evaluate the success of your campaigns.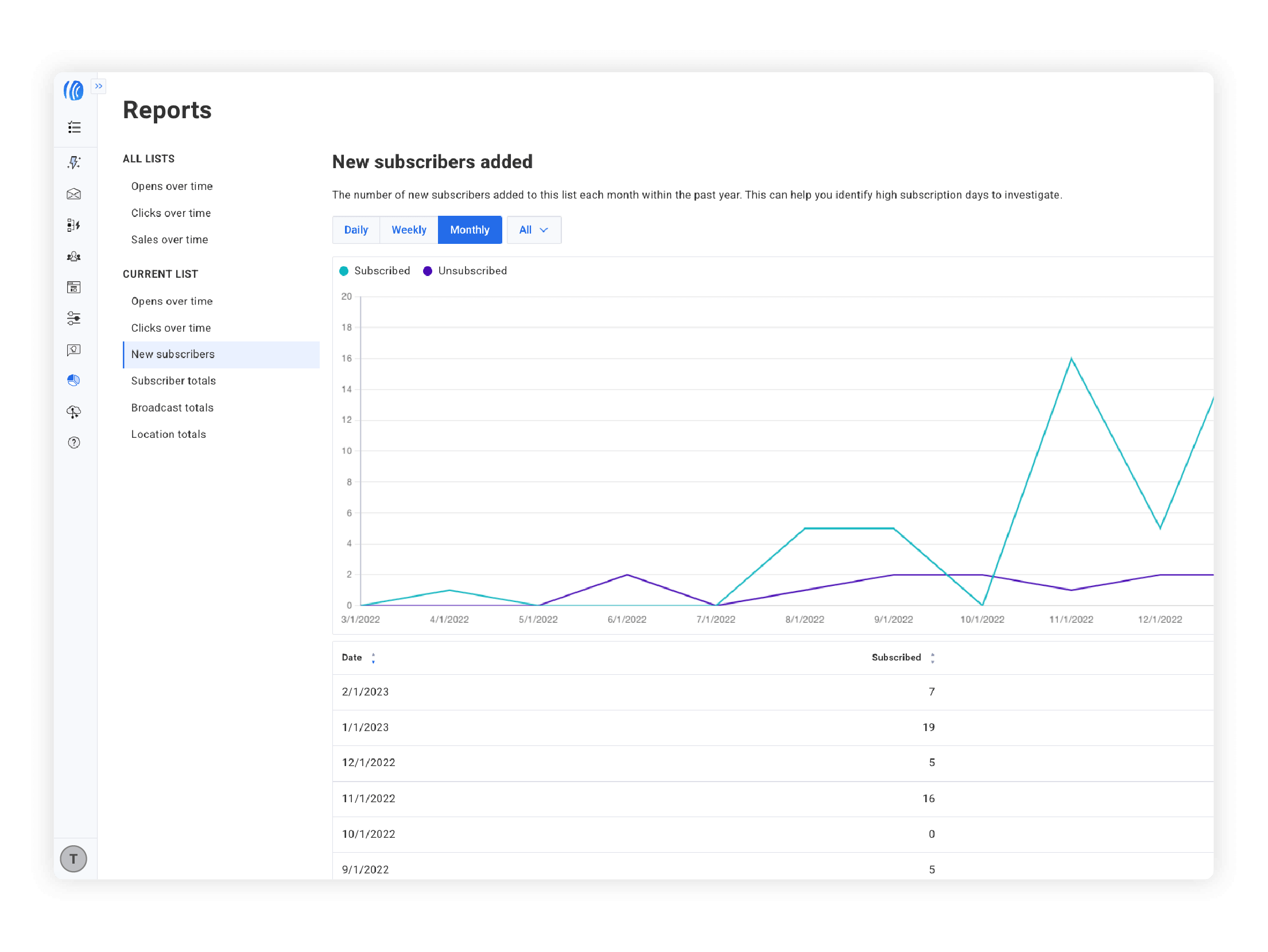 Optimize and Iterate: Learn from your email campaign results and make improvements for future campaigns. AWeber's analytics will provide insights into what works best for your audience.
Additional Features
Integrations: AWeber integrates with various third-party applications, such as WordPress, Shopify, and Salesforce. Explore the integrations available to streamline your email marketing efforts. You can also follow our step-by-step guide on how to configure the integration settings you need.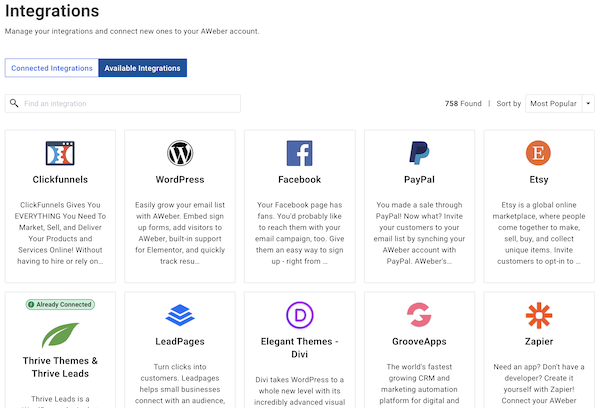 Customer Support: AWeber offers customer support through various channels, including email, live chat, and a knowledge base. If you have any questions or need assistance, reach out to their support team.

Educational Resources: Take advantage of AWeber's educational resources, including guides, webinars, and blog posts. They provide valuable tips and strategies to help you maximize your email marketing efforts.