AWeber
AWeber: The All-in-One Solution for Successful Email Marketing Campaigns
AWeber Integrations
Published on 15.07.2023 by Katerina
Looking to revolutionize your email marketing efforts? Wondering how to take your campaigns to the next level? Meet AWeber, your ultimate ally in the world of email marketing. With its intuitive interface and robust features, AWeber makes connecting and engaging with your audience a breeze. But that's not all – have you ever thought about the magic that happens when AWeber meets third-party applications?
From e-commerce platforms to CRM systems, landing page builders, and beyond, AWeber's integrations offer a world of possibilities.
Join us
, as we dive into the why, the how, and the what's-in-it-for-you of AWeber integrations. So let's boost our marketing journey!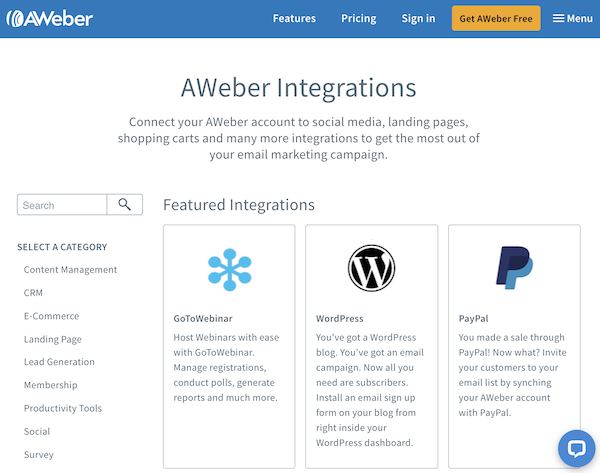 Seamless E-Commerce Integrations
When it comes to e-commerce, AWeber has you covered with smooth integrations:
Shopify: Connect effortlessly with Shopify, a leading e-commerce platform. Sync customer data for smart segmentation, targeted emails, and cart recovery using AWeber.

WooCommerce: AWeber pairs perfectly with WooCommerce, a renowned WordPress e-commerce plugin. Capture customer info at checkout, auto-add them to AWeber lists, and send tailored emails based on their shopping history.

Magento: AWeber's merge with Magento, an open-source e-commerce platform, syncs customer data to fuel targeted email campaigns. Elevate customer experiences with personalized touches.
CRM and Marketing Automation Integrations
Salesforce: AWeber integrates with Salesforce, a leading customer relationship management (CRM) platform. This integration allows you to sync customer data between AWeber and Salesforce, enabling you to leverage your CRM data for more targeted email campaigns and personalized communication.

HubSpot: AWeber's integration with HubSpot, a comprehensive marketing automation and CRM platform, enables you to sync contact data, segment your audience, and create automated email campaigns based on HubSpot's workflows and triggers.

Zapier: AWeber can be integrated with Zapier too, a powerful automation platform that connects over 3,000 apps. This integration opens up a wide range of possibilities by allowing you to create custom workflows and automate tasks between AWeber and other applications.

ClickFunnels

: an integration with this popular sales funnel builder enables seamless synchronization of contact information, empowering businesses to capture leads and automate targeted email marketing campaigns. By combining the power of ClickFunnels' sales funnels with AWeber's email capabilities, businesses can optimize lead generation and drive higher conversions through personalized communication. Learn how to integrate AWeber with ClickFunnels

here

.
Landing Page and Form Builders
Leadpages: AWeber's integration with Leadpages, a popular landing page builder, enables you to easily capture leads and add them to your AWeber subscriber lists. You can create beautiful landing pages and lead generation forms that seamlessly integrate with AWeber.

Unbounce: AWeber integrates with Unbounce, another leading landing page builder. This integration allows you to create high-converting landing pages and sync captured leads directly to your AWeber lists for email follow-up.

Gravity Forms: AWeber's integration with Gravity Forms, a versatile form builder plugin for WordPress, allows you to collect leads through custom forms and automatically add them to your AWeber subscriber lists. This integration simplifies lead capture and email marketing automation.
Content Management Systems
WordPress:

AWeber integrates with WordPress, the most popular content management system (CMS). This integration provides seamless integration of AWeber's sign-up forms, email marketing tools, and autoresponders with your WordPress website, making it easy to grow your subscriber base and engage with your audience. Check out the

OptimizePress's tutorial on that here

.

Drupal: AWeber's integration with Drupal, a powerful CMS, enables you to embed AWeber's sign-up forms on your Drupal-powered websites. You can collect leads, segment your audience, and send targeted emails to your subscribers using AWeber's tools.
Beyond Basics
Google Analytics: AWeber integrates with Google Analytics, a widely used web analytics service. This integration allows you to track the effectiveness of your email campaigns, monitor website traffic, and gain valuable insights into subscriber behavior.

PayPal: AWeber's integration with PayPal, a leading online payment platform, enables you to add customers who make purchases through PayPal to your AWeber subscriber lists. This integration helps you engage with your customers and build long-term relationships.

Eventbrite: AWeber integrates with Eventbrite, an event management and ticketing platform. This integration allows you to automatically add event attendees to your AWeber lists, enabling you to follow up with event-specific emails and promotions.
These are just a few examples of the integrations available with AWeber. As AWeber continues to expand its offerings, new integrations may be introduced, so stay tuned!