Planable
Planable: Plan, Schedule, and Approve Social Media Content Effortlessly
Best Content Marketing Solutions in 2023
Published on 22.08.2023 by Katerina
In the fast-paced digital landscape of 2023, Social Media Marketing (SMM) has solidified its place as a pivotal strategy for businesses to connect, engage, and convert their audience. As the competition intensifies, having the right SMM tools at your disposal can make all the difference in crafting successful marketing campaigns. In this comprehensive guide, we'll delve into the top 5 SMM tools that are reshaping the way marketers approach automated marketing and amplify their brand's presence. From scheduling posts to analyzing performance, these tools have got you covered.
This guide isn't just about 'what' these tools are; it's about 'how' they can revolutionize your SMM strategies. Let's delve into the details of each tool and explore the unique advantages they bring to the table.
Planable: Unleashing Collaborative Excellence
At the heart of every successful marketing campaign lies effective collaboration. Planable doesn't just understand this; it's built around it. With Planable, managing social media campaigns becomes a seamlessly collaborative endeavor.
This platform offers
a centralized hub where your team can brainstorm, create, schedule, and analyze your posts – all in one place. That's why it takes the lead in our top 5 SMM tools list.
Key Features
Collaborative Content Creation: Planable erases the limitations of traditional back-and-forths by providing a real-time collaborative space for content creation. Team members can simultaneously work on content, ensuring that your posts reflect a diverse array of creative inputs.

Visual Content Planner: Visuals are the soul of social media. Planable's visual content planner lets you map out your posts on a visual calendar, offering a bird's-eye view of your content strategy. Drag, drop, and visualize your way to an impeccable SMM timeline.

Approval Workflows: Say goodbye to the maze of approval chains. Planable empowers you to define clear approval workflows, streamlining the process and ensuring that every piece of content aligns with your brand's voice and message.

Performance Analytics: A key component of any SMM strategy is analyzing what works and what doesn't. Planable provides in-depth analytics that allow you to measure engagement, track the performance of your posts, and optimize your strategy accordingly.
Planable isn't just a tool; it's a launchpad for collaborative excellence. In a world where campaigns are won or lost based on the authenticity and impact of your content, Planable equips your team to soar. Interested? Check out Planable's latest offers
here
.
Sprout Social: Your All-in-One Social Toolbox
Navigating the vast expanse of social media can be overwhelming, but Sprout Social is the
compass you need
. It's not just a tool; it's your all-in-one social media command center, offering a suite of features that streamline your SMM efforts.
Key Features
Unified Inbox: Managing multiple social media platforms can be like juggling flaming torches. Sprout Social brings all your messages and notifications into a unified inbox, making sure you never drop the ball on customer interactions.

Scheduling and Publishing: Consistency is the heartbeat of effective SMM. Sprout Social's scheduling and publishing features empower you to plan and execute a consistent content calendar across all your platforms.

Audience Engagement: Building a loyal audience requires more than just posting. Sprout Social lets you engage with your audience in real-time, responding promptly to comments, messages, and mentions.

Advanced Listening: To create content that resonates, you need to understand what your audience is talking about. Sprout Social's advanced listening tools help you tap into relevant conversations, allowing you to tailor your content to meet your audience's needs.
Sprout Social isn't just about managing; it's about mastering your social media presence. From content creation to engagement, this toolbox equips you to build lasting connections with your audience.
Hootsuite: Orchestrating SMM Efforts Seamlessly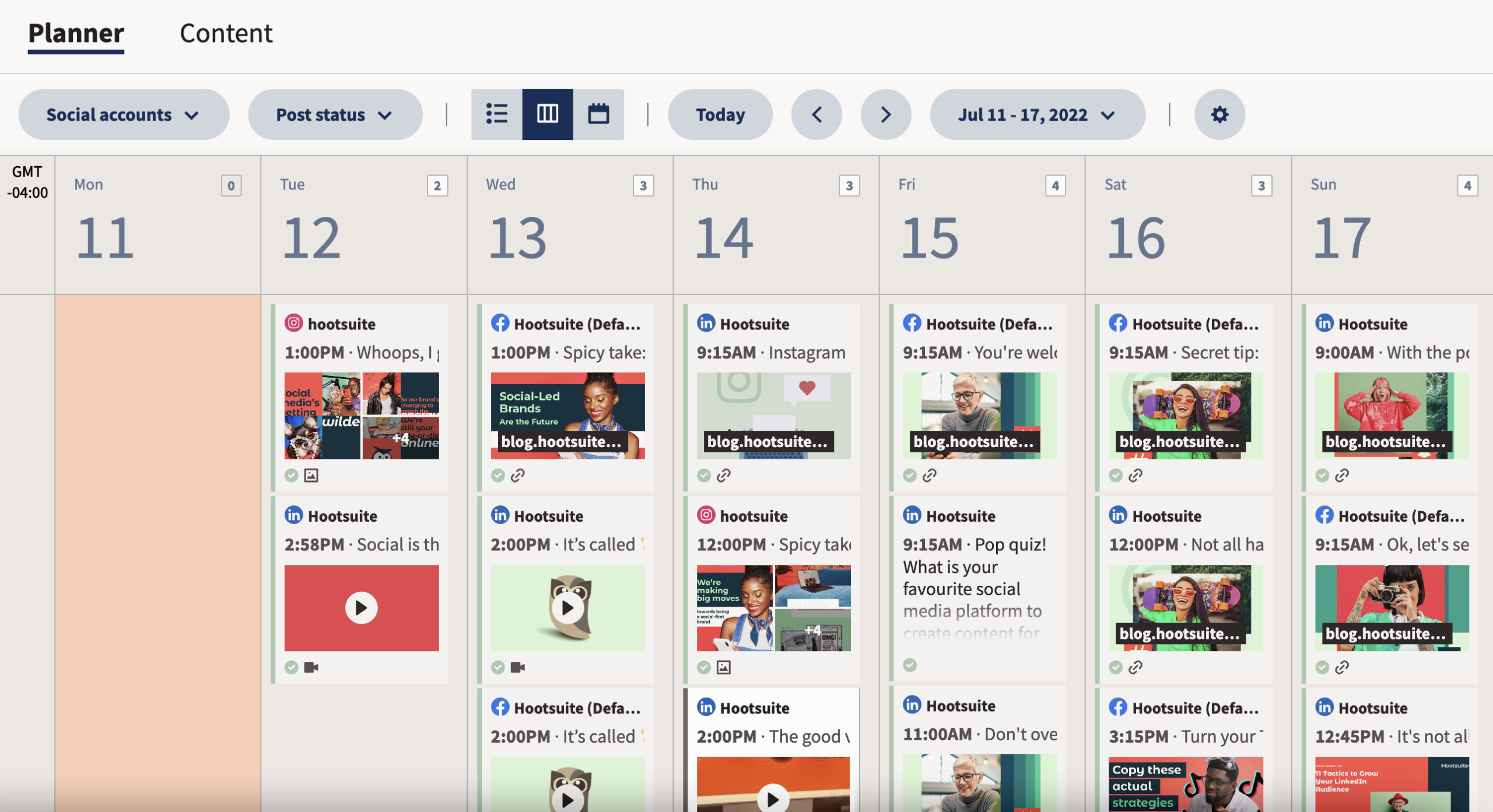 In the symphony of social media,
Hootsuite
is the conductor that brings harmony to your SMM efforts. This platform has been a staple for marketers, and in 2023, it continues to evolve and adapt to the ever-changing SMM landscape.
Key Features
Social Media Management: From scheduling posts to curating content, Hootsuite's social media management features empower you to maintain an active and engaging online presence.

Team Collaboration: Collaboration doesn't need to be complicated. Hootsuite enables your team to collaborate efficiently, ensuring everyone is on the same page and working towards the same goals.

Paid Social: Amplify your reach with paid social campaigns. Hootsuite's integration with various social platforms allows you to manage your paid campaigns seamlessly and monitor their performance in real-time.

In-Depth Analytics: Numbers tell a story, and Hootsuite's analytics provide a detailed narrative of your SMM journey. Track metrics, measure ROI, and make data-driven decisions to refine your strategy.
Hootsuite isn't just a tool; it's a testament to the evolution of social media management. As the SMM landscape continues to shift, Hootsuite remains a steadfast partner in your journey. Seeking a broader perspective? Read our detailed article on
Planable VS Hootsuite comparison
.
Buffer: Simplifying SMM Scheduling
One of the top 5 SMM tools is Buffer. In the realm of social media, timing is everything.
Buffer
recognizes this and serves as your ultimate wingman for scheduling posts at the optimal moments.
Key Features
Intuitive Scheduling: Buffer's user-friendly interface makes scheduling posts a breeze. Simply choose your content, select your posting times, and let Buffer handle the rest.

Content Suggestions: Sometimes, inspiration needs a nudge. Buffer's content suggestions feature offers a plethora of relevant ideas to keep your content pipeline flowing.

Visual Planner: Visualize your content calendar and see how your posts will appear on your social media profiles. This visual planner provides a comprehensive view, ensuring that your content is well-distributed and visually appealing.

Tailored Posting Times: Buffer doesn't believe in a one-size-fits-all approach. It analyzes your audience's online behavior and suggests the best times to post for maximum engagement.

Performance Metrics: It's not just about scheduling; it's about knowing what works. Buffer's performance metrics provide insights into your post's reach, engagement, and overall impact.
Buffer streamlines the scheduling process, allowing you to focus on creating quality content while it takes care of the timing. With Buffer, your SMM strategy is elevated to a new level of efficiency.
BuzzSumo: Unearthing SMM Insights
Creating content that resonates with your audience isn't a shot in the dark; it's a calculated endeavor.
BuzzSumo
is your compass, helping you navigate the world of trending topics and viral content.
Key Features
Content Discovery: Discovering relevant and trending content is the first step towards crafting a winning SMM strategy. BuzzSumo's content discovery feature allows you to explore what's buzzing in your industry.

Competitor Analysis: What better way to improve than to learn from your competitors? BuzzSumo's competitor analysis tool lets you dissect your competitors' strategies and identify opportunities for differentiation.

Influencer Identification: Collaborating with influencers can amplify your reach. BuzzSumo's influencer identification feature helps you identify key players in your niche, enabling fruitful partnerships.

Backlink Analysis: SEO and SMM go hand in hand. BuzzSumo's backlink analysis helps you understand the backlinks your content is earning, giving you insights into your content's authority and reach.
BuzzSumo isn't just a tool; it's a treasure trove of insights that can shape your SMM strategy. By tapping into trending content and understanding your competition, you can create content that resonates with your audience.
---
A little bit more for conclusion
As the SMM landscape continues to evolve, staying ahead of the curve requires more than just creativity – it demands strategic planning and data-driven decision-making. The top 5 SMM tools of 2023 – Planable, Sprout Social, Hootsuite, Buffer, and BuzzSumo – offer a diverse range of features that empower marketers to streamline their efforts, optimize their strategies, and connect with their audience on a deeper level.
From collaborative content creation to seamless scheduling, from comprehensive analytics to content discovery, these tools serve as the pillars of a successful SMM campaign. The digital realm is dynamic and ever-changing, but with these tools by your side, you're equipped to not just survive but thrive.
So, whether you're a seasoned marketer or just starting out, these tools are your secret weapons to navigate the labyrinth of social media and emerge victorious.